Meet Mollie, the world's most special and high-maintenance cat.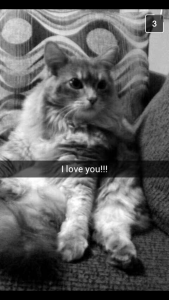 My father brought my cat, Mollie, home my junior year of high school and that is when her story began. She was rescued from the shelter where if not adopted that week she would have been put down. My father being skeptical of who should and shouldn't own a pet did not deem the woman looking at bringing her home originally as a good fit given the condition he said her dog was in which she had with her. Luckily for me and my family, Mollie came home with him instead.
At first she was very skiddish with us. Eventually, like any new pet she came around to love us as much as we loved her. However, she didn't take too well to not being the only cat around. Instead, she become the princess of the family (who we love dearly). Mollie is very high-maintenance and spoiled. She gets treats twice a day and will guard the food bowl to make it harder for the other cats to eat. She requires a little work throughout the day to ensure the other cats are happy in the house too. However, she can be the sweetest cat when she wants to be. Her fluffiness generic propecia hair loss makes her the perfect cuddle buddy at night.
Adopt. Don't Shop.
One thing we did notice as Mollie's stay with us went on. Her back legs did not function properly. She was incapable of jumping high and walked a little funny. The vets could find no explanation wherever we took her. Due to being at a shelter that was not the best back home we believe it was due to improper surgery while being spayed. Which leads me to my point to adopt, don't shop. The more we adopt, the more the animals in shelters will have to be properly cared for like they are at Catering to Cats and Dogs.
Despite her setback, she still runs around and plays like any other cat does. If you give her a string she'll go crazy and loves her feather toys. Mollie has come a long way in her new and loving home that my family has been able to give her. She's become my dad's best friend and favors him over my mom and me. She's slowly but surely coming around to the other cats as well.
No matter what, we still love her as much as any other cat we've had.